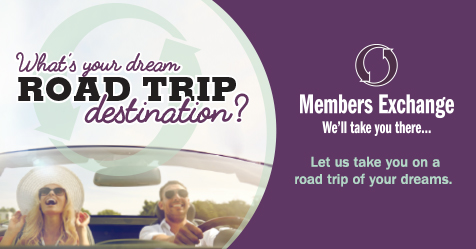 Let Members Exchange take you on a road trip of your dreams. When you finance a new or used auto or recreational vehicle with Members Exchange, you will be entered to win monthly prizes and a grand prize valued at $2,200!
Grand Prize: $1,200 travel credit, $300 spending money, Yeti Roadie, Yeti ramblers, gift cards, and swag items.
*This offer applies to qualified borrowers on new and used auto and recreational loans financed and refinanced from other financial institutions. Loan rates are based on your credit worthiness. Members Exchange will match other financial institution's rates (verified) and reduce the rate by 0.10%, not to go below established floors in place. The amount financed must be $5,000 or higher. The promotion is scheduled to end August 31, 2017 and it can be modified or cancelled at any time without prior notice. Restrictions and limitations may apply.
Click here to view our loan rates.
Click here to apply for a loan.