Announcements
Holiday Closing
Members Exchange branches will be closed Tuesday, July 4 in observance of Fourth of July holiday. We will be open for regular operating hours on all other days. We hope you have a safe and happy holiday!
What's Your Dream Road Trip Destination?
Let Members Exchange take you on a road trip of your dreams. When you finance a new or used auto or recreational vehicle with Members Exchange, you will be entered to win monthly prizes and a grand prize valued at … Continue reading →
All Announcements >
Members Exchange News
Video: 7 Cooperative Principles
When you join a credit union you're more than a member, you're part of a movement! Watch this video for a brief description of the 7 cooperative principles that make credit unions unique.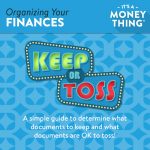 Infographic: Organizing Your Finances
It's good to know what documents are important to keep and which ones are safe to discard. Check out the infographic below to determine what you should keep and what you can toss! Then organize your documents and create a plan … Continue reading →
All News >
---