The Mississippi Attorney General's Office is relaunching the Did You Know initiative to inform citizens of the many services that they offer. The graphic below describes some of the services available to citizens.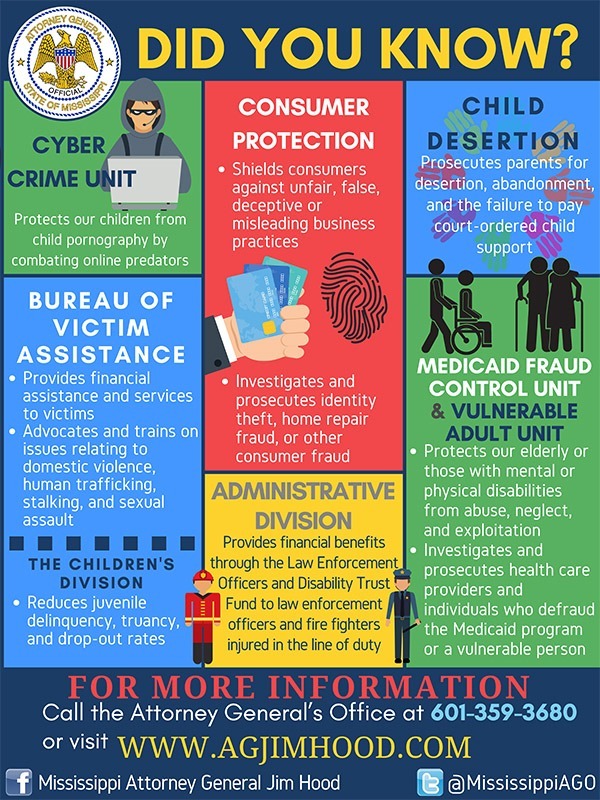 Did You Know That…
The Bureau of Victim Assistance increases the effectiveness of the criminal justice system by promoting the fair and compassionate treatment of victims of crime? The Bureau provides financial assistance and support services to eligible victims of violent crimes and serves as a single point of contact for services through advocacy, training, and technical assistance specifically tailored to enhance victim safety and increase offender accountability in the areas of domestic violence, human trafficking, stalking, and sexual assault. Additionally, the Children's Division within the Bureau supports collaborative efforts that reduce juvenile delinquency, truancy, drop-out rates, exploitation, and child abuse and neglect, by facilitating initiatives to improve, expand, and promote services for at-risk youth and their families.
The Consumer Protection Division can provide assistance to you if you have a dispute with a business through its mediation process?  Also, if you have been the victim of identity theft, home repair fraud, or other consumer fraud, the Consumer Protection Division can provide assistance to you on how to respond and combat these issues.
The Child Desertion Unit criminally prosecutes parents throughout the state for desertion, abandonment, and the failure to pay court-ordered child support?
The Cyber Crime Division protects— and, in many cases, rescues— children from computer crimes such as child pornography and other cybercrime scams?
The Administrative Division manages the Law Enforcement Officers and Fire Fighters Disability Trust Fund which provides financial benefits to eligible law enforcement officers and fire fighters injured in the line of duty?
The Medicaid Fraud Control Unit and the Vulnerable Adults Unit enforce the laws which prohibit abuse, neglect, and exploitation of vulnerable adults, such as those having mental or physical disabilities?
---
For more information on Cyber and Fraud protection, visit the Mississippi Attorney General's Website.