Kasasa Checking
Checking Accounts that Earn Rewards
Kasasa checking accounts from Members Exchange Credit Union are completely FREE, complete with valuable rewards you actually want – like massive dividends, cash back, digital downloads, and extra money to help you save.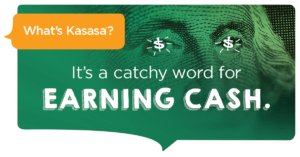 Every Kasasa checking account is FREE and includes:
e-Statements are required to open and maintain a Kasasa account. Kasasa products are eligible for Discretionary OOPS!™(Occasional Overdraft Privilege Service)* which can mean fewer returned check charges when you make mistakes for more money than you have in your checking account.
[1] Effective January 2019 – Paper Statement Fee.  A recurring $2.00 fee will apply if you choose to receive an account statement in paper form.  To avoid the paper statement fee, login to your Online Banking and sign up for free e-Statements.  New members will have two statement cycles to sign up for e-Statements.
[2] CO-OP Shared Branching:  Account access at CO-OP shared branches is available after 60 days of membership.